PCs and Incremental Automation
Automation information management and communications software that interface industrial panel pc to industrial devices such as programmable controllers is becoming a popular technology for applications in manufacturing, production, and control.
Software designed for process control has enabled the PC to compete with the larger industrial control systems in a market driven toward smaller automation projects. Small to midsize projects ranging from $70,000 to $100,000 seem to be the market trend. These are projects where small manufacturing areas or single unit operations in a plant are fitted with automatic controls and supervisory systems. On project completion, the PC is a stand-alone system for real-time display, PID control, trending, reporting, and spreadsheet analysis.
PC Integration
Distributed control system manufacturers have made possible integration of the PC into their proprietary networks by developing necessary packaged interfaces. For example, The Foxboro Co. has a package to enable interfacing to the company's unit controllers. Functions for feedback, feedforward, cascade, logic, and math can be configured in 17-block tasks for as many as 88 blocks. Standard displays are controller faceplate and trending. Moore Products Co., Leeds & Northrup Instruments, Honeywell Inc., and Bailey Controls also offer computer interface components for PC-based workstations.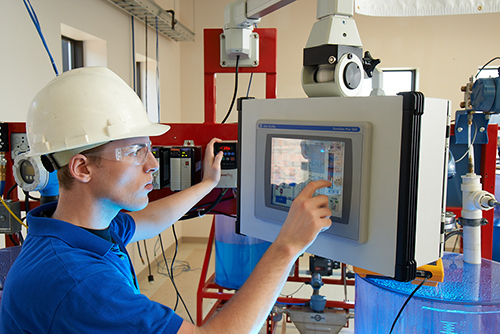 Machinery Monitoring
PC-based data acquisition software is also suited to vibration data capture. Bently Nevada Corp.'s Dynamic Data Manager monitors steady-state dynamic vibration data upon alert or danger alarm conditions on all types of rotating machinery. Data can be used immediately or can be accessed later for predictive maintenance.
Computational Systems Inc. (Knoxville, TN) offers the Machinery Diagnostic Expert (DXPERT), a tool incorporating AI-like techniques to help solve vibration-related rotating machinery problems. DXPERT executes on IBM-PCs or their compatibles and has six general knowledge bases from which to solve machinery problems: pumps, motors, gear boxes, turbines, fans, and compressors. Users can create their own knowledge bases which retain specific plant-history data. Software for vibration-monitoring systems compatible with IBM PCs or the HP 750 has also been developed by Vitec Inc. The package allows implementation of analysis, trending, warning levels, fastfourier transforms, and predictive-maintenance programs.
System Design, Modeling
Documentation, modeling, and design software are also available for the PC. ONSPEC, a software package developed by Heuristics Inc. is a modeling kit which can be used to develop new systems on a PC. Online displays for status, trend analysis, and management can be planned and implemented. Software can be used to monitor installation, commission, and startup. Instrument documentation software by Classic Systems Inc. is intended for creating and maintaining instrument documentation. System automates ISA-S20 specification forms and is IBM compatible. Several systems facilitate programming of programmable controllers. ProDoc/ProDraft is a family of programmable controller program development,documentation, and support software by Process &
Instrumentation Design Inc. It is compatible with the IBM-PC, DEC MicroVax, and UNIX systems.
WRB Assoc. (Troy, MI) provides a ladder design and documentation system to aid users during program modification as well as creation. Allen Bradley also supports software of this type. Applications software for CAD and other design functions is rapidly coming to market. For example, Autodesk Inc. has AutoCAD, a CADD program, as well as third-party software programs applicable to instrumentation. AutoCAD can be used to prepare process, piping, and instrument diagrams on over 30 different microcomputers.