3mm Bezel Aluminum Embedded Industrial Monitor features
Our industrial monitor has a fashionable mechanism design with 3mm industrial-grade material
front bezel which can avoid damage from chemical corrosion.
Aluminum alloy shell,good mechanical properties,better performance of heat dissipation.
Adopt industrial control HD LCD screen +LED backlight screen,highlight picture,perfect color.
Compatible with various industrial systems/application.
Support without touch,resistive touch,capacitive touch,IR touch.
Whole system is equipped with WI-FI module,more convennient.
Build-in 2.0 speakers,support 1080P HD video.
Complete machine triple protection:explosion-proof, flameproof, moisture-proof.
Shock resistance standard reach GB2423,protection during transportation/working on the sea.
Anti-static level of contact 4KV(customized MAX 6KV),air 8KV( customized MAX 16KV).
Anti surge design,it is proper functioning during Instantaneous voltage rising into 280v.
Motherboard design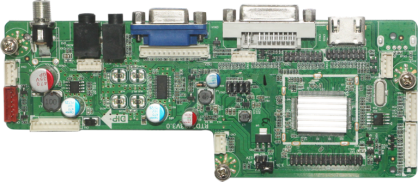 PCB design:

Anti combustion, explosion proof and moistureproof

Main chipset:

REALTEK industrial level display chip

component:

Industrial level components

Power supply management:

TI chipset,wide range 12-24V input

size:

7-85"max resolution 1920*1080

Pressure resistance design:

Pressure resistance of solid state capacitance in board

36V/105

Antistatic design:

Contact 4KV air 8KV air max 16KV

Automatic sense design:

Built-in automatic photosensitive interface, using the

luminance automatic regulation of the photosensitive module

Terminal anti-interference:

china standard 3C GB/T17626 EMC standard EN55015 and

EN61547

Anti-interface:

3C EN55022(EMI ) EN55024(EMS )(Need to cooperate

with the whole machine)

reliability design:

working temp:-20-70 degree

relative humidity:

10%-90%(not congealed)